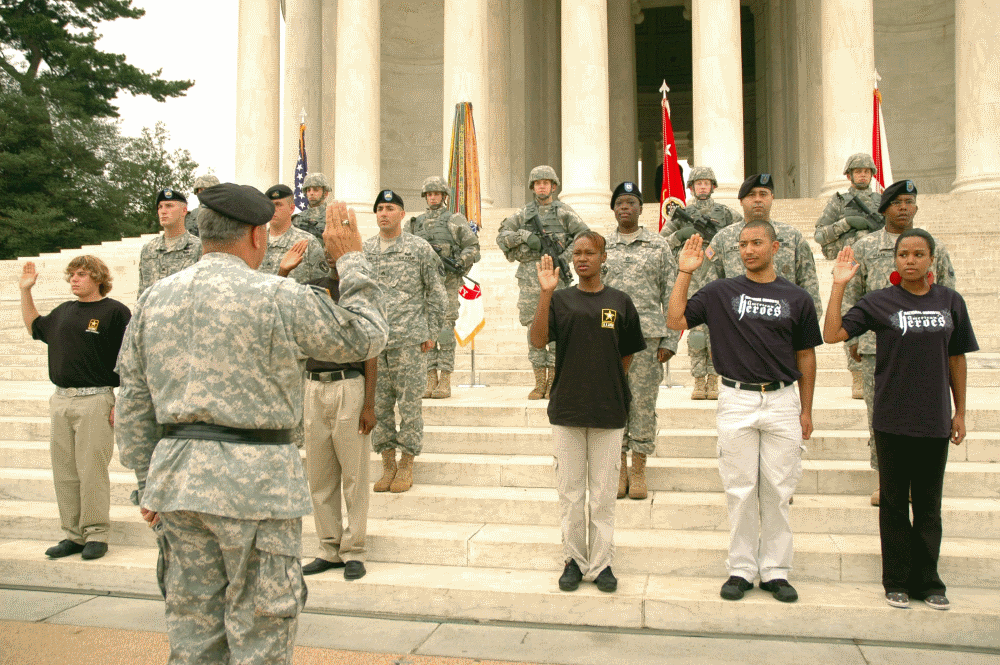 With over 80-percent of the military force structure enlisted soldiers it is a fair assumption to say that "most people" in the military started their Army affiliation with a recruiter. There are few things that tie the brother-and-sisterhood together than the enlistment process and that starts off with the first interaction with a recruiter. Whether self initiated, advised by a family member or mentor, or told by the judge or court appointed person to "join the Army or go to jail," meeting a recruiter and visiting a recruiting station usually starts the ball rolling. Two other events are similarly common and influential, and that is going through basic combat training (BCT) and meeting their drill sergeant(s), those three things usually stick in any soldiers minds for life. Even most warrant officers and many officers have also began their career as an enlisted soldier and have passed through a recruiting station somewhere in their journey to be a soldier.
On a journey last year I was at a recruiting battalion headquarters and thought back to a recent effort I was briefed on, now called "Soldier for Life," that the Army was transmitting to who they determined were key stakeholders. I began to form the thought about the importance of the recruiting team's effort at the start of that soldier life cycle. There has been a number of great initiatives, branding and re-branding, and changes to and creation of policies to provide clarity to SFL. But a missing element was an opportunity to preserve the legacy of honorable service of select influential men and women who have gone through the doors of each recruiting and processing station that service recruits. A well thought out Hall of Honor at each Recruiting Station and MEPS Center will not only help preserve our legacy, but inspire future recruits.
The Army has had a number of distinguished leaders who have started their career at a hometown recruiting station, yet their story is often lost locally. Many times a soldier's affiliation with their community is forgotten after people rotate in and out of a recruiting duty assignment, and heroes or distinguished service is not adequately used to tell a story that resonates with future Soldiers for Life and their families. An example is my fellow Californian Staff Sgt. Ty Carter, who earned the medal of honor for his actions in Afghanistan, who is a product of the recruiting station. Or Sgt. Major of the Army Dan Dailey who likely enlisted at a recruiting station near his Palmerton, PA home. Or Chairman of the Joint Chiefs of Staff Gen. John Shalikashvili who entered the Army as a private in 1958. Surely a notation of them, and others like them, who went on to serve with distinction and began their journey at that specific site is one that can inspire potential recruits from their hometown community.
As with anything that requires a selection process there are a few things besides a "want to do this" that must exist. Obviously short of industrious individuals recruiters and their station commanders just doing it, there needs sponsorship and endorsement from the Recruiting Command. There needs to be advocate for this effort at the highest levels. The Army is a standards-based organization so it should be a topic of study for feasibility, the concern of return on investment is important in a cash-strapped service.  Once decided policies and procedures must be published, as well as a well-crafted selection process to ensure selection does not become expected or routine. Over the years the numbers could grow exponentially, and is maybe something that is only considered annually through a very deliberate process.
The US Army Sergeants Major Academy has a similar recognition program where a distinguished person who significantly contributed either to the Sergeants Major Academy or to the Noncommissioned Officer Education System is selected to be inducted to a Hall of Honor, and their a photograph and biography is on display to inspire others. They take nominations and hold a selection board and typically induct  between 1-3 new additions annually. Just like the Academy, each Recruiting Battalion could provide oversight to their local programs, and each recruiting company and their station personnel builds unit espirt-de-corps and strengthen their ties to their organizations through a connection to its past.
//topsarge
CSM (Ret.) Dan Elder, USA
@dandotelder
"The appearance of U.S. Department of Defense (DoD) visual information does not imply or constitute DoD endorsement."