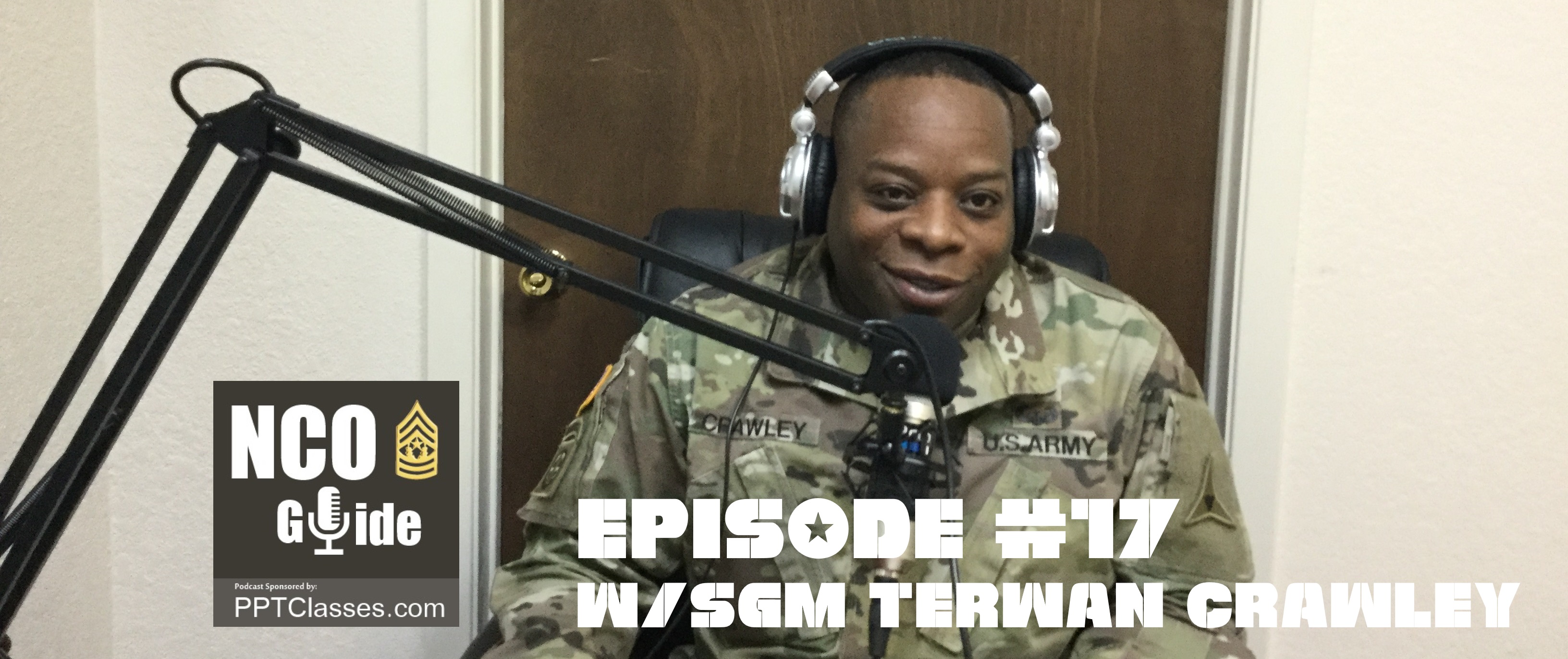 This week in episode #17 of the NCO Guide podcast I host Sgt. Maj. Terwan Crawley, the III Corps G-4 MRD Sergeant Major. In this episode, we discuss some of the issues facing inactivating units, and use his experience as the 589th Brigade Support Battalion Command Sergeant Major during their inactivation at Fort Hood, TX. We talk about tips for the command and staff faced with this type of important force management function.
/topsarge
CSM Dan Elder, USA, Retired
@dandotelder
Subscribe to our podcast on iTunes.
Subscribe to our podcast on Stitcher.
Subscribe to our podcast via RSS.
Our thanks to SGM Crawley for participating in this discussion and wish him continued success. Statements here are personal opinion and do not reflect the official position of the US Army or DoD, participation in our interview sessions does not equal endorsement of any type. The NCO Guide is an unofficial news outlet of professional commentary and guided self-development from current and former Soldiers with the desire to share their expertise and experience and can be read at http://www.NCOGuide.net.
---
Sergeant Major Terwan Crawley
Terwan Dyral Crawley is a native of Lynchburg, Virginia and his parents are Mr. Daniel L. Crawley and Yvonne A. Rose. He graduated from Heritage High School, Class of 1986. He enlisted in the Army on August 14, 1987, and attended Basic Training at Fort Leonard Wood, Missouri. After Basic Training, he was stationed at Aberdeen Proving Ground, Maryland for Advanced Individual Training (AIT) and received the Military Occupation Specialties (MOS) of (63) Heavy Wheeled Vehicle Mechanic. After AIT, he was sent to Fort Benning, GA, where he graduated from the Basic Airborne Course.
His assignments include service with the C Company 782d Maintenance (which later became the 82nd Forward Support Battalion), 82d Airborne Division, Fort Bragg, North Carolina; 520th Service Company, Camp Humphreys, Korea; 296st Service Support Company, Fort Lewis. Washington; 98th Maintenance Company, Fort Richardson, Alaska; 407th Forward Support Battalion and Headquarters and Headquarters Company 82nd Airborne Division, Fort Bragg, North Carolina; 602nd Combat Service Ground Maintenance Company, Camp Stanley, Korea; United States Army Special Operations Support Brigade, Fort Bragg, North Carolina; 425th Brigade Special Troops Battalion, 725th Brigade Support Battalion, and United States Army Alaska, Fort Richardson, Alaska; and 82nd Airborne Division Staff G3/5 SGM, Fort Bragg, North Carolina; 13th Sustainment Command (Expeditionary) G3 Operations Sergeant Major; 589th Brigade Support Battalion Command Sergeant Major. He is currently the III Corps G4 MRD SGM. He deployed to Operation Desert Shield/Desert Storm, Operation Iraqi Freedom (OIF); and Operation Enduring Freedom.
Sergeant Major Crawley's leadership positions: Squad Leader, Automotive Section Sergeant, Maintenance Control Superiors, Platoon Sergeant, 82nd Airborne All-American Chorus NCOIC, First Sergeant, G3 Operation Sergeant Major, G5 Plans Sergeant Major and Command Sergeant Major. He is a graduate of the Primary Leadership Course (PLDC), Basic Noncommissioned Officer Course (BNCOC), Advanced Noncommissioned Officer Course (ANCOC), First Sergeant Course, and Class 63 from United States Army Sergeants Major Academy (USASMA)
He holds a Bachelor of Science degree in Psychology from Campbell University. His awards and decorations include the Bronze Star Medal w/oak leaf cluster, Meritorious Service Medal w/ 4 oak leaf clusters, Army Commendation Medal w/ 4 oak leaf clusters, and Army Achievement Medal w/ 1 oak leaf cluster. He also earned the Master Parachutist Badge, Air Assault Badge, and the Drivers and Mechanics Badge. He is a member of the Sergeant Audie Murphy Club, Order of the Samuel Sharpe, and the Order of Saint Barbara award.
He has been married to his beautiful wife, Tara D. Crawley since 1989. They have two wonderful daughters, Dalmatia C. Crawley-Robert and NyKea S. Crawley, and two grandchildren Amaurie and Jalilah. He attributes his success to his faith in God, family, friends and the Soldiers with whom he has served.
Podcast: Play in new window | Download