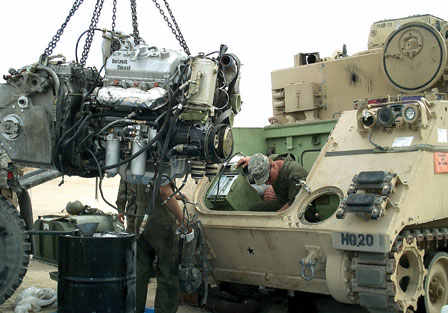 Garrison Maintenance
After more than 11 years of continuous conflict, today's Army leaders recognize the need for a back-to-basics effort to re-establish doctrinal practices to regain logistical technical expertise. With the drawdown in Afghanistan and renewed fiscal constraints, now it the time to seize this initiative to adjust the Army's azimuth. The changing nature of a modular force has contributed to decline in the Soldier and leader technical competencies required for efficient logistics readiness in garrison.
Today's leaders at Battalion and Brigade levels are highly experienced combat veterans whose operational focus has not included opportunities to lead Materiel Readiness Reviews (MRR) and Maintenance shoot-outs. These reviews traditionally serve as the method for transferring critical logistical information and instilling discipline in the process. It is essential that leaders understand the various sources of data available for these reviews, the right metrics to track, and the intricate details of their Class IX budget.
MAT Logistics Information Systems (LIS) such as SAMS-E, PBUSE and AFMIS create critical logistics data at the tactical level. By employing over 70% military veterans from the logistics and sustainment fields, our company offers the Army deep experience in the areas of supply, maintenance, and transportation to provide Soldiers a comprehensive understanding of the capabilities of logistics systems to reach readiness goals. We know what right looks like. Our
senior leaders have run MRRs; we know the right sources of data, how to interpret it, and what questions to ask to get the most out of the review process. The Army can improve logistic readiness processes and personnel skills by partnering with MAT.
We stand ready to partner with the Army to conduct exportable observer-trainer seminars, training events, and customized programs of instruction tailored for any echelon on how to best reestablish effective back-to-basics logistics programs. Through on-site training, practical exercises, and enterprise level training, the Army can leverage our experience to improve equipment operational readiness rates and increase stewardship of Operations and
Maintenance budgets.
As the original equipment manufacturer of SAMS-E, and the post development software
supporter of SAMS-E, PBUSE, and AFMIS, we understand Army LIS. The Army benefits from the
training methodology employed by our Customer Field Service Representatives in SWA for over
6 years, by our certified trainers for almost 6 years for FORSCOM STAMIS training, and at the
Combined Arms Training Center-Europe for STAMIS training for over 6 years. The Army has no
better partner for logistics training than McLane Advanced Technologies.