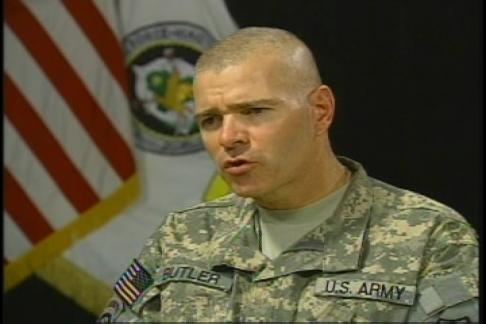 This is an excerpt from a paper published in the MPRA magazine by CSM (Ret.) Jeffrey Butler, the former senior enlisted advisor of the 16th Military Police Brigade. This article was in response  to a course requirement where Butler was asked about his most challenging team assignment, the answers are timeless lessons in noncommissioned officer leadership. This excerpt is reprinted by permission of the author and we encourage you to read the entire article in the Spring 2014 edition of MPRA online. 
Lessons in Leadership
I deployed to Baghdad, Iraq, in January of 2004, as the Command Sergeant Major (CSM) of the U.S
Army's 16th Military Police Brigade (Airborne). The months that followed were definitely my most challenging team experience. One of the missions assigned to our organization was detention operations, which included the responsibility for the now infamous Abu Ghraib Prison. On our second day in country, we were called in to a briefing from the outgoing commander and informed of an investigation into activity and photographs that involved guard force abuse of Iraqi prisoners. After the initial shock, disgust, and disappointment, we knew that we had major problems to fix and that we would be under a microscope.
My role, as charged on my CSM appointment certificate, was the efficient accomplishment of the unit's mission by providing advice and initiating recommendations to the commander and staff on all matters pertaining to enlisted personnel in the command. The command at the time had over 6,000 personnel of which approximately 85% were enlisted. The CSM has a responsibility to uphold the military customs and traditions and to enhance professionalism by executing established policies and directives to maintain the required standards and discipline. The commander and I worked closely and coordinated all aspects of our actions together. I was also able to provide another set of eyes and ears to monitor our effectiveness and enforce the command vision. This input was crucial for our staff's understanding of the conditions on the ground.
The challenging factors were many. The pre-war abandoned Iraqi prison was poorly constructed by U.S. standards and the additional hastily erected tent holding facilities were insufficient and lacking fundamentals of basic proper care. This contributed to a rise in camp violence and a distrust of the guard force. The location was frequently targeted by mortar attacks and used ad hoc security from assigned units for its defense. The units at the facility were mostly reserve and National Guard units that had served since the April 2003 invasion. They had been told for months that their job was done and they were leaving any day. None of the units had trained for detention operations. The mission was now actually transitioning from an enemy prisoner of war camp into something closer to a long-term prison. The leaders were poorly prepared and had not been given the proper level of support and guidance. That was all before the investigation even began or the horrific abuse pictures were published.
The shocking revelations brought global attention and interest, numerous inquiries and investigations, and the removal of and legal actions for many leaders and the responsible soldiers. These all added to the stress and dangers already overwhelming the mission. While we attempted to fix the problems, we were weighed down with hundreds of visitors and VIP visits from generals, Congressional and Senate delegations, international press, and even the Secretary of Defense himself. They all had their own ideas and recommendations on what we should be doing. The good idea fairy was always present.
The problems and their solutions took the full efforts of our command and staff sections. We knew the units that caused the problems were the same units that we had to help fix them. Gaining their trust, improving morale, and raising the level of standards and discipline, were paramount to our success. Multiple tools were used to identify contributing issues and analyze current procedures. We immersed and leveraged our unit staff and capabilities immediately. Our Deputy Brigade Commander was placed in charge of the military police battalion whose commander had been removed for investigation.
My personal efforts focused on improving Soldier morale and instilling high standards. I developed a standards and uniform policy that addressed many of the observed problems. My commander and I briefed every unit, welcomed them to our team, and trained them on the standards. We continued to reinforce this with presence and leader engagements. Our brigade equal opportunity advisor conducted unit command climate surveys and provided insight in to other problems. They found numerous issues that our staff could quickly address and correct. We found that a lack of support activities created morale issues.
We arranged for uniform replacements, awarded our brigade patch for wear, and coordinated the opening of barbershops, Post Exchange, and vendors with local goods. We funded construction for improved living quarters and dining facilities as well as morale facilities such as gyms and internet cafes. Our legal staff was fully engaged in assisting commanders with required judicial actions. They also ensured that all accused soldiers had legal counseling and representation. We contacted the Army military police school and arranged for trained corrections specialist to come and train our entire guard force. Other staff sections focused on implementing standard operating procedures. Major improvements were made in the care and custody of detained personnel. We instilled unit pride by recognizing outstanding soldiers and actions.
Awards and promotion processes were improved and each departing unit was honored with a redeployment award ceremony and thanked for their hard work. We continued our standards and integration program by welcoming each new unit immediately upon arrival and letting them know how important they and this mission are. All visitors were amazed at the level of professionalism and proficiency that they observed. Recognition for fixing the problem was minimal, but we were content with the fact that we favorably changed the conditions so that they would not happen again.
So what did we learn in this effort? This would best be answered by looking at what actions had the greatest effect. Teamwork and making everyone feel that they are part of the team is critical. Once we established buy-in and raised the professionalism of the force, the same units that previously failed were the ones directly responsible for all of the improvements. By showing that we were a committed and caring leadership team, we were able to influence our subordinates. We gave them a voice and made them a part of the solution. Personnel that believe in the mission and receive support from management will contribute to their success. I learned that what at first appears to be an insurmountable task just needs to be analyzed and broken down into smaller challenges. Empower subordinate leaders to take responsibility and take actions. Mentor, counsel, and encourage them to succeed. Stand up for them when they make mistakes. Don't worry about things that you have no ability to influence and work within your lane. We learned leadership and life lessons from a situation that even now seems impossible to fully comprehend.
In conclusion, I cannot overstate the severity of the problems, the combat conditions, and the adversity created by the influencing factors. Other military and business challenges in my life now seem small in comparison. The experience instilled within me a confidence and belief that I apply to all tasks. I was fortunate to be a part of an amazing team that made history. They were men and women from all over the country that truly cared about the success of the mission and the reputation of our nation. We were at a tragic point in history and we emerged successful. We, and all of the units in our charge, turned the crisis around and upheld our motto to "Return with Honor".
Our thanks to CSM Butler for allowing us to share this article and wish him continued success. Statements here are personal opinion and do not reflect the official position of the US Army or DoD, participation in our site sessions does not equal endorsement of any type. The NCO Guide is a news outlet of professional commentary and opinion from current and former Soldiers with the desire to share their expertise and experience and can be read at http://www.NCOGuide.net