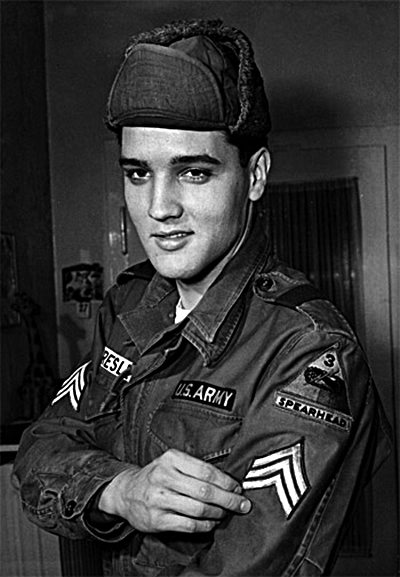 Sergeant Elvis Aaron Presley, the King of Rock and Roll, served with honor in the 1st Medium Tank Battalion, 32d Armor, 3d Armored Division in Germany as an assistant squad leader. On March 24, 1958, the "King" became Private Presley when he was inducted into the Army at the Memphis Draft Board. He reported to Fort Hood, Texas, and received basic and advanced training on tanks, Presley chose to serve in the combat arms as an Armored crewman. At the conclusion of his training, he was shipped out to the 3d Armored Division in Friedberg, Germany. Presley initially joined Company D, 1-32d Armor at Ray Barracks after arriving via troop ship on October 1 1958. Presley maintained a residence in Bad Nauheim with friends and family, and the next year at a party in his home a mutual friend brought along a guest named Priscilla Ann.
Elvis' platoon sergeant Ira Jones noted that Elvis did his fair share of work, and in his own book "Soldier Boy Elvis he later wrote "He used his head and did his job well. He was one of us. He cared about us and he got back the respect and friendship he gave everyone else." He performed his duties as any other trooper, his platoon leader Col. (Ret.) William J. Taylor, Jr. recalled:
"Aside from the fact that our battalion could have gone to war with the Soviets at any time, there are real risks every single day in a combat unit. …[Elvis] pulled his weight. He used his head and did his job well. He was one of us. He cared about us. And he got back the respect and friendship he gave everyone else. In several instances, I saw sparks of leadership in Elvis that made me think he could have induced men to follow him into combat, just as his music caused millions of young people to follow him."
On January 20, 1960, and only weeks from discharge, Presley was promoted to sergeant. Upon the conclusion of his service, he earned a Certificate of Achievement from then 3d Armored Division commander, Maj. Gen. Frederick J. Brown.
Presley was officially released from the military on March 5, 1960, and would go on to revive his singing and acting career full-time, he had donated all his military pay to charity. In April he began filming his fifth movie, G.I. Blues. The actors all wore the patch of the 3d Armored Division, and part of the filming was done at Ray Barracks in Friedburg, and employed soldiers of the division. The movie soundtrack album was number one in the country for 10 straight weeks, but remained on the charts for 111, and was one of Presley's most successful albums of his career.
Gen. (Ret) Colin Powell recollected a chance meeting with Presley in his memoirs years later:
"One morning during maneuvers, we had come upon a scout jeep from another unit parked on a narrow road near Gießen. 'Hey Lieutenant." one of my men shouted, "Come on over. Look who's here.' I walked over to the jeep, where a grimy, weary-looking sergeant saluted me and put out his hand. It was Elvis Presley. What impressed me at the time was that instead of seeking celebrity treatment, Elvis had done his two-year hitch, uncomplainingly, as an ordinary GI, even rising to the responsibility of an NCO."
After a successful music career, Presley died at 42 on August 16 1977. Originally buried in Forrest Hill Cemetery, he was moved to a plot at his Graceland Mansion, Memphis, Tennessee.