Noncommissioned Officer Guide
Training Circular (TC) 7-22.7
1 January 2020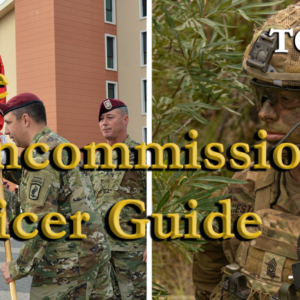 This Department of the Army Training Circular (TC) is dedicated to the men and women of the
U.S. Army NCO Corps, who have made the ultimate sacrifice and to NCOs presently serving in
the Active Army, the Army National Guard, and the Army Reserve. The Soldiers will seek
guidance, trust you to train them, and to develop them to win the nation's wars. As the standardbearer,
instill pride and strive to live the Army Values. You are "The Backbone of the Army."
<link>
NCOs conduct the daily operations of the Army. NCOs are relied on to execute complex tactical
operations, make intent-driven decisions and operate in joint, interagency, and multinational
environments. NCOs are responsible for maintaining and enforcing standards and a high degree
of discipline. NCOs process Soldiers for enlistment, teach basic Soldier skills, are accountable
for the care of Soldiers, and set the example. NCOs are trainers, mentors, advisors, and
communicators.
<link>
Every Soldier has a Sergeant, and every Soldier deserves a leader who is a capable trainer, is
trustworthy, is genuinely concerned for their health and welfare, and develops them to be the
leaders of tomorrow. The Soldier's Creed and Warrior Ethos are compelling obligations we
expect our Soldiers to live by. Likewise, we expect our leaders to live by those obligations and
those of the NCO Creed and Charge of the NCO (See Figure 1 & 2).
<link>
As the culture of the Army changes, we face tremendous challenges. How we communicate, use
technology, increase resilience, sustain tactical and technical proficiency, and inculcate ourselves
and our Soldiers on ethics and values are critical to maintaining an "Army Strong" force.1
Soldiering is and has always been an affair of the heart. Leading is a privilege and an honorable
profession. The two major responsibilities of leadership remain the accomplishment of the
mission and the welfare of Soldiers. This guide is intended to enhance your ability to lead and
arm you with tools such as self-awareness, self-discovery, how you lead, and how you develop
your subordinates. It also ties into how competent and confident you are in your duties,
responsibilities, and roles.