Back to Basics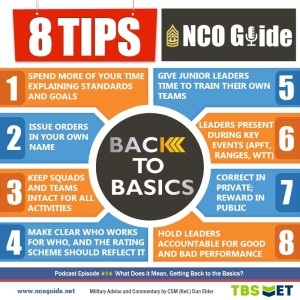 In this episode CSM (Ret.) Dan Elder discusses getting back to the basics and attempts to identify a few foundational techniques company grade noncommissioned officers should master. Key to a professional leader's style are in being grounded in the way that they operate, those basic behaviors that set them apart from others. The way we perform is usually influenced by what we have learned either through formal training or education, by observing and watching those around us, or by other events or influencers. It is by reflecting on some of those techniques that either confirm our own styles, or fill in gaps that currently exist.
I make it known that the eight I chose to talk about in this episode are not in any order, not the most important. It is the starting point for my continued dialog in the coming episodes of what I perceive to be basic leadership skills and techniques, and drive the listener more towards useful, realistic advice. #NCO2020
The NCO Guide is a forum for the host CSM (Ret.) Dan Elder and his guests to discuss topics of interest to US Army noncommissioned officers and to enhance the dialog between professionals, as well as offer advice and counsel in a no-nonsense way. Please feel free to add your own feedback here in the comments section or call our Hotline at (254) 853-4410, or use the Twitter hashtag #NCOGuide and tell us what you think.
/topsarge
CSM Dan Elder, USA, Retired
@dandotelder
Subscribe to our podcast on iTunes.
Subscribe to our podcast on Stitcher.
Subscribe to our podcast via RSS.
Statements here are personal opinion and do not reflect the official position of the US Army or DoD, participation in our interview sessions does not equal endorsement of any type. The NCO Guide is a news outlet of professional commentary and opinion from current and former Soldiers with the desire to share their expertise and experience and can be read at http://www.NCOGuide.net
Podcast: Play in new window | Download