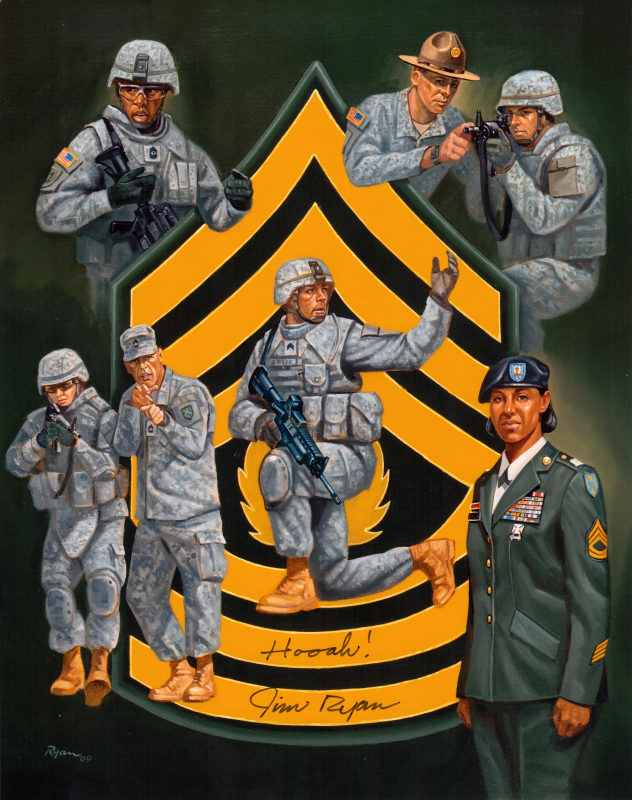 First Region of the Association of the United States Army (AUSA) saluted noncommissioned officers
for their outstanding service to the nation during the 2nd Year of the NCO in 2009. As part of that recognition, the Region commissioned known artist Jim Ryan, who has produced my signature prints and released them during their annual conference.
In the accompanying proclamation that went along with the high-colored design reads:
2009 – THE YEAR OF THE NONCOMMISSIONED OFFICER
SINCE 1775, THE ARMY HAS SET APART ITS NCOs FROM OTHER ENLISTED
SOLDIERS BY DISTINCTIVE INSIGNIA OF GRADE. WITH MORE THAN 200 YEARS
OF SERVICE, THE U.S. ARMY'S NONCOMMISSIONED OFFICER CORPS HAS
DISTINGUISHED ITSELF AS THE WORLD'S MOST ACCOMPLISHED GROUP OF
MILITARY PROFESSIONALS. HISTORICAL AND DAILY ACCOUNTS OF NCO LIFE
ARE EXEMPLIFIED BY ACTS OF COURAGE AND A DEDICATION AND A WILLINGNESS
TO DO WHATEVER IT TAKES TO COMPLETE THE MISSION. NCOs HAVE BEEN
CELEBRATED FOR DECORATED SERVICE IN MILITARY EVENTS RANGING FROM
VALLEY FORGE TO GETTYSBURG, TO CHARGES ON OMAHA BEACH AND BATTLES ALONG
THE Ho CHI MINH TRAIL, TO CURRENT CONFLICTS IN
AFGHANISTAN AND IRAQ.
This art was dedicated to Army NCOs by Region President Norm Harkins.
//topsarge
CSM (Ret.) Dan Elder, USA
@dandotelder