The NCO Guide, 10th Edition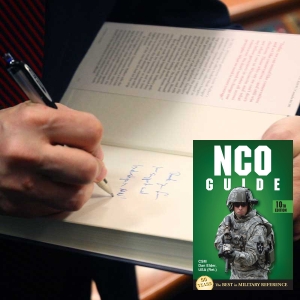 Author Dan Elder will personalize and sign a new, unused copy of the NCO Guide, 10th Edition for the cost of the book, and shipping and handling. To place your order please click the orange Pay Now button:
---
The basic responsibilities of the US Army noncommissioned officer have changed little since this guide was first introduced in 1948. The all-encompassing nature of this handbook is not unlike one of the earliest military guides, the 1779 "Regulations for the Order and Discipline of the Troops of the United States," by Prussian officer Friedrich Von Steuben. Called the "blue book" because of its appearance, von Steuben in his instructions to sergeants and corporals noted that they would be "answerable for the squad committed to their care." He went on to teach that they "must pay particular attention to their conduct in every respect; that they keep themselves and their arms always clean; and that they have their effects always ready." On today's modern battlefield the duties and responsibilities of the noncommissioned officer may be similar to the requirements in Washington's Army at Valley Forge, but the battlefield has become much more complicated. This book is one way you can keep tips, lessons, and references right at your fingertips no matter where you serve, in the same tradition of von Steuben.
NCOs become good NCOs by using their time productively to study their profession and themselves. They read Army regulations, field manuals, military journals, and other official literature to hone their professional edge. They research military topics in sources ranging from on-post libraries to Army listings on the internet. They spend many off-duty hours studying college texts or using alternative educational resources to pursue degrees to develop further their usefulness as leaders.
The NCO Guide is aimed at the corporals, sergeants, first sergeants, and sergeants major who will turn to it when they need self-help guidance or consolidated information that will benefit fellow soldiers. The Guide is an educational resource and ready reference to key Army subjects. It draws on the education, experience, and training of myself and the other editors, as well as hundreds of sources. The Guide begins with a discussion of how and why the Army continues to change and ends with how to make the most of a transition from service to civilian life, it follows a soldier lifecycle model. Readers will also find information on the developmental aspects of soldiering, fitness, education, promotion, and dozens of other necessary topics relating to a noncommissioned officer's duties. The Guide serves as a desktop reference when the reader or a fellow soldier has questions about pay, benefits, entitlements, personal appearance, uniforms, insignia, assignments, and personal and professional problems. It also contains aids that quickly lead soldiers to official or other publications that may contain updates.
The tenth edition has been fully revised and includes topics all NCOs must understand. It contains new or updated information about our responsibilities as NCO leaders: leading soldiers in combat, leadership, counseling, rigorous training, the Army values, personnel and property accountability, master fitness principles, weight control, the Army Physical Fitness Test, the NCO Education System and civilian education, professional reading and writing and multimedia, life insurance, thrift savings plan, and medical and dental insurance. It also addresses contemporary leadership issues such as professional ethics, PTSD, soldier behavior on the battlefield, fraternization, AIDS, discrimination, resiliency, and the prevention of sexual harassment.
Readers will also find sections about the military justice system, including military discipline, the law of land warfare, command authority and soldier rights, nonjudicial punishment, the Manual for Courts-Martial, and its Uniform Code of Military Justice. Also provided is information about awards and decorations and uniforms, with several pages of full-color photographs for your use.
This edition of the NCO Guide has reformed content and improved relevancy. It appears that everything in the Army has been subject to change over the last 13-years of persistent conflict, the team at Stackpole Books and I have done our best to bring you the latest in a very dynamic and changing time. Field manual numbers now reflect the DOD numbering system where appropriate, and we have converted our references to the Doctrine 2015 categorization of manuals to ATPs, ADRPs and ATPs. Because of the large number of MOS-specific schools, discussion of schools is restricted to functional courses that apply most-such as the NCO Education System, drill sergeant, airborne, recruiter, and so on.
As a career active duty soldier who spent a lifetime serving my comrades and my nation as a soldier I am honored and humbled by the opportunity to continue to serve through this effort. It is through actions like maintaining this guide that "old soldiers" like myself continue to give back to our profession during times where others cannot. Though I am no von Steuben, it is in his tradition that we offer you this up-to-date and useful handbook that we believe will serve you many years ahead.
Daniel K. Elder
CSM, USA (Ret.)
csm@ncoguide.com